2022-2023 Admission Guide of
Bachelor Degree program
I. A Brief Introduction of the University and Program
Hainan University is a comprehensive key university formed by a merger with the former South China University of Tropical Agriculture in August 2007. It is jointly administered by the Ministry of Education and the Hainan Provincial People's Government. The university has made great achievements by adhering to the motto of "openness and inclusiveness" and the spirit of "self-improvement, dedication, kindness and perseverance". In December 2008, it was approved by the state as a key university under the 211 Project. In 2012, it was included in the Plan of Strengthening Higher Education in Middle and Western China and was successively supported by the National Basic Ability Construction Project of Western and Central China and the National Comprehensive Strength Enhancement Project of Western and Central China. In 2017, HNU was listed in the national plan for establishing world-class disciplines. In 2018, the Hainan provincial Party Committee and provincial government made a strategic decision to fully sponsor the development of Hainan University. Also in that year, the university came under the joint administration of the Ministry of Education and the Hainan Provincial People's Government, and was included among universities directly administered by the Ministry of Education.
In the context of the construction of Hainan Free Trade Port and International Education Innovation Pilot Zone, Hainan University stays committed to developing leading and distinctive disciplines through integrating the best intellectual resources and furthering opening up and innovation. With a focus on seven key research fields – "FTP Development and Institutional Innovation", "Ecological Civilization", "Culture and Tourism", "One Health", "Tropical High Efficiency Agriculture", "Marine Science and Technology", and "Information Technology", Hainan University is making every effort to create world-class disciplines under the country's Double First-Class Initiative and build itself into a first-class university in China.
The University adopts a strategy of openness in education and has established all-round, multi-level and extensive exchanges and cooperation. It is the first institute in Hainan Province that is qualified to receive Chinese government scholarships for international students to study in China, it has been selected as the Demonstration Base for Studying in China by the Ministry of Education and the Chinese Language Education Base by the Overseas Chinese Affairs Office of the State Council, and has won the honorary title of "Advanced Group of Education for International Students in China".
Hainan University offers Bachelor Degree programs for international prospective students. International undergraduates will undertake a 4-year full-time academic program with courses taught in Chinese or English. Undergraduates will be awarded graduation certificates and bachelor's degrees upon completing the amount of credits stipulated in their teaching plans within the prescribed period of schooling, as well as completing and passing the defense of their thesis. Hainan University is in collaboration with Arizona State University, introducing ASU's discipline, teaching faculty and other teaching resources. Students for the special majors of bachelor degree program will be graduated with double degrees, which are bachelor from Hainan University and bachelor from Arizona State University.
II. The major List of Bachelor Degree Program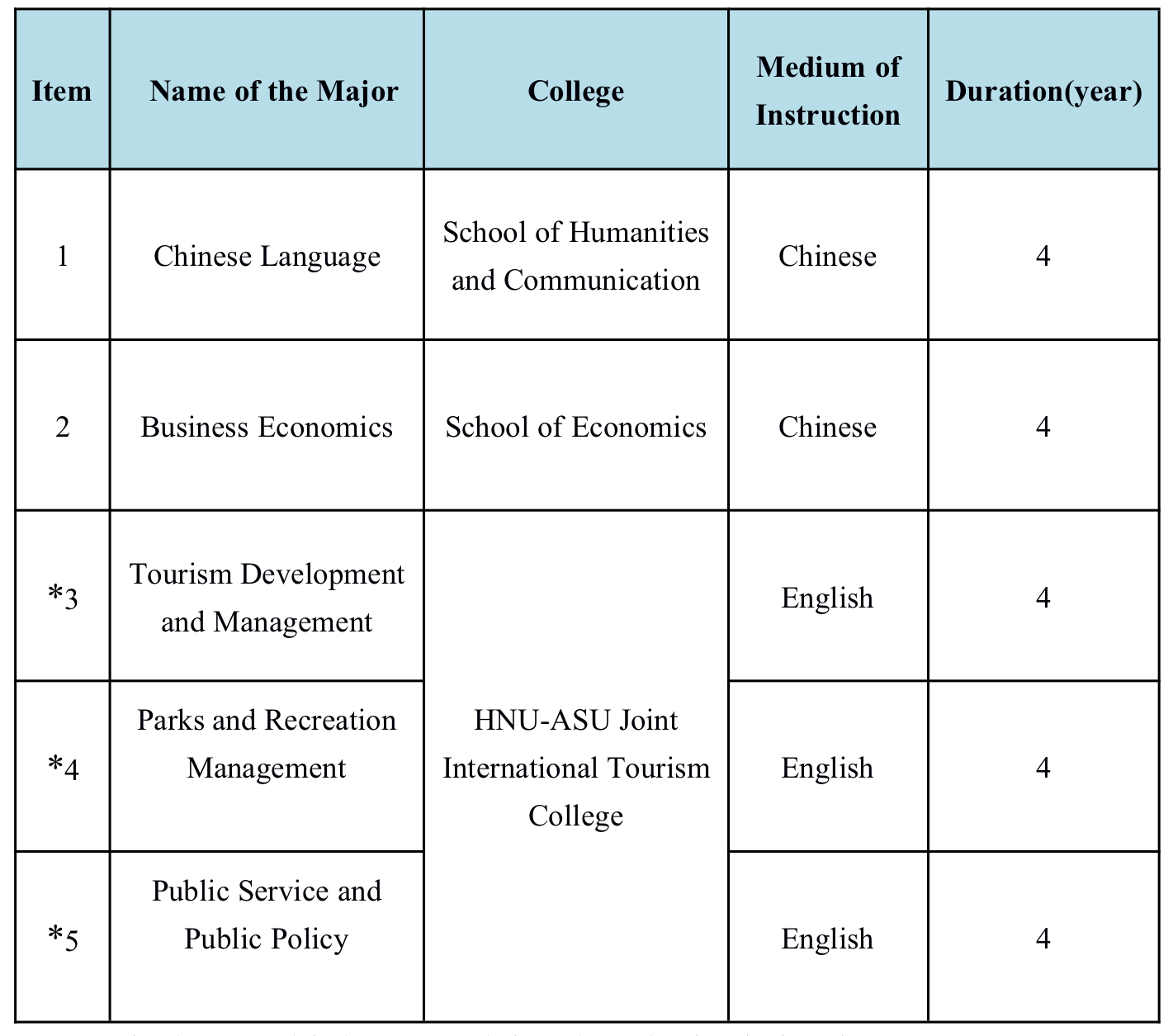 Note: The items with * are special majors for bachelor degree program.



III. Application Requirements
1. Applicants should be non-Chinese citizen, between 18 and 45 years old, in good health both mentally and physically, well-behaved and capable of living independently, fulfill all the conditions of Chinese Entry-exit, observe Chinese laws and university's regulations, and respect Chinese culture and customs.
2. Academic Requirements:
Applicants for undergraduate programs must provide a high school diploma or equivalent;
Applicants for postgraduate programs must complete their undergraduate studies and obtain a bachelor degree or equivalent;
Applicants for Ph.D programs must complete their graduate studies and obtain a Master degree or equivalent.
3. Language Requirements:
Applicants for Chinese taught programs should be capable of studying courses in Chinese and obtain HSK level 4 (or above) certificate when applying. Undergraduate students majoring in Chinese language is required to pass HSK level 6 before graduation. Applicants from non-English speaking countries for English taught programs should be capable of studying courses in English and obtain a IELTS 6.0, or TOEFL 560, TOEFL iBT 78 certificate.
IV. Application Deadline
From February 20 to June 30 2022
Semester starts from the beginning of September 2022, specified in the Letter of Admission.
V. Application Method
Applicants should register and complete the online application system at https://hainu.17gz.org/ , upload the required materials below and pay the application fee (can be paid online) before the application deadline.
(1) Valid Passport Copy (the expiry date of the passport should be more than 1 year).
(2) Notarized certificate of the high school diploma in Chinese or English. If applicants are high school students, they must provide an official Pre-Graduation Certificate showing their student status and stating expected graduation date, the original certificate should be provided after admission.
(3) Notarized copy of transcript of all the courses in high school. The transcripts which are not in English or Chinese version should be translated into English or Chinese version and also be notarized.
(4) Two Recommendation Letters written in Chinese or English (at least one from the teacher in the high school) .
(5) Proof of Chinese or English proficiency. A valid HSK certificate (Applicants for Chinese-taught programs), or a valid IELTS or TOEFL certificate (Applicants for English-taught programs) .
(6) The Foreigner Physical Examination Form completed in English (the original copy shall be kept by the applicant). The form is designed by the Chinese quarantine authority and can be obtained from the dispatching authority. The physical examinations must cover all the items listed in the Foreigner Physical Examination Form. Incomplete records or those without the signature of the attending physician, the official stamp of the hospital, or a sealed photograph of the applicants are invalid. Please select the appropriate time to take a physical examination as the result is valid for only 6 months.
(7) Non-criminal record report. The applicant shall submit a valid certificate of Non-Criminal Record issued by the local public security authority, usually issued within 6 months prior to the submission date of the application.
(8) Bank Statement (50,000 yuan/RMB for one academic year).
(9) If the applicant is an international student in China, a valid Visa or study type residence permit and an official study proof such as the "Certificate of End of Study" or "Transfer Certificate" issued by the aforementioned school/ University must be submitted with the application. If the applicant is employed, an official employment proof must be submitted.
(10) If one or both parents of the applicants are Chinese citizens, or applicants who were originally Chinese citizens and obtained foreign nationalities afterward, a certificate of living abroad and the entry and exit seal page of visiting China on the applicant's passport during the recent 4 years should be provided.
Note:
● The applicant should affirm that all the information and documents provided are true and correct. Any conduct of falsification, fraud will result in cancellation of your admission qualification.
● Please scan the original or notarized application documents in color using a scanner. Images captured by mobile phone or camera are not acceptable.
● All uploaded documents should be in Chinese or in English; otherwise notarial translations in Chinese or English are required. Once translated, the original documents and certified translations are to be submitted together.
● Incomplete application documents will delay the process of your application.
VI. Qualification Examination
Hainan University will check the application documents and issue the Letter of Admission, Visa application form for Study in China to the qualified students after the applicants are approved.
Due to limited enrollments of scholarship, applicants who meet admission requirements but fail to obtain the scholarship can be preferentially admitted if the applicants agree to be admitted as self-funded undergraduate students.
VII. Registration
Admitted students should take the Passport, Letter of Admission, Visa application form for Study in China, the Foreigner Physical Examination Form and other required documents to the Chinese Embassy or Consulate in their country to apply for Student (X1 or X2) visa.
Applicants with high school Pre-graduation certificate must submit high school diplomas on or before the registration day, otherwise the admission qualification will be revoked.
VIII. Fees and Payment
1. Application fee: 400 Yuan(Application fee should be paid when you submit your application materials; it is non-refundable.)
2. Tuition fee:

Note: Hainan University provides preferential tuition fee for the offspring of overseas Hainanese, international students pay the same tuition fee as Chinese students do.
3. Accommodation fees on campus
4. Textbook fee: It is subject to the actual price of the textbooks.
5. Insurance: 800RMB/year; 560RMB/semester.
All international students are required to purchase the Comprehensive Insurance Plan of Foreign Students on the day of registration. Students who do not have valid medical insurance will not be allowed to register.
6. Health Check: Around 500 Yuan.
7. Cost of meals on campus: About 1500 Yuan/month(only for reference).
8. Ways to pay the application and tuition fee:
(1). By online payment;
Link: https://meeting.yizhifubj.com.cn/web/index.action?meetingId=253
(2).By card to the appointed faculty office (only the card with Unionpay);
(3).By transfer(only for the transfer within China).
The bank account information is as follows:
Name: Hainan University
Account Bank: The Industrial and Commercial Bank of China,
Hainan Provincial Branch, Haida Sub-branch
Account Number: 2201029429200051678
Note: Please note your name and passport No. onto the receipt when transferring. After you fulfill the payment, please keep the receipt for check.
IX. Scholarships
For ordinary bachelor degree program, Hainan University provides excellent students with Chinese Government Scholarship and Hainan Provincial Government Scholarship. Prospective students and scholars from all over the world are welcome to apply for scholarship to study at Hainan University. With regard to specific information about the Scholarship application, please check the Application Guide for those Scholarship Programs.
X. Contact Us
Add: International Student Office,
School of International Education, Hainan University,
No.58 Renmin Avenue, Haikou, Hainan Province, 570228, P. R. China
Contact Persons: Mr. Cui, Ms. Zhou
Tel: +86-898-66291354
Fax: +86-898-66291348
E-mail: admission@hainanu.edu.cn